LATEST - WE HAVE FINISHED! 68 DAYS AFTER LEAVING LA GOMERA, WE ARRIVED IN ANTIGUA. YOU CAN FOLLOW HOW WE GOT ON BY EITHER: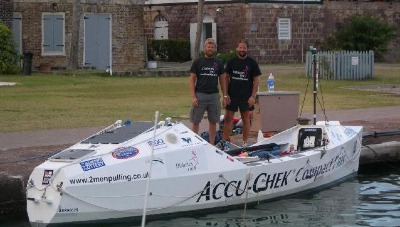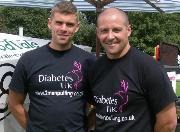 Hello - Welcome to the 2menpulling website.

We hope this site will provide a place that you can follow us on our trans-Atlantic rowing adventure on board OCEAN SUMMIT, as we set our sights on rowing ourselves unsupported across 3,000 miles of the Atlantic Ocean from Europe to the Americas!

We'll be keeping a ship's log as a diary of our progress. It'll track our major hurdles on our way to the start line from where we'll be keeping it up to date while we're actually at sea – assuming we can keep the technology going! Click here to see how we are doing 'The Ship's Log'

We hope you find the site interesting, inspiring and that it will motivate you to support our charities and our ambition to raise £20,000 of funds for them. Please do give generously, knowing that every penny you donate, along with Gift Aid, will go direct to them. You can do so by clicking on 'The Charities'

Once you've had a look around, why not leave us a motivational message, and see what others have thought in the 'Guestbook

We really appreciate your support – please tell others and come back again.

Scott & Neil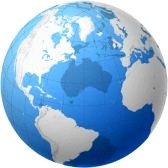 On the 2nd December 2007 we will be leaving La Gomera (in the Canary Islands) and then rowing unsupported across the Atlantic Ocean to Antigua (in the Caribbean). Described as "The Toughest Race on Earth" we will cross 2,935 miles of the largest wilderness on our planet.

We've no engine, no sails and no keel, but we do have some oars and a rudder and by rowing shifts, 2 hours on 2 hours off, 24 hours a day, non-stop for around 60 days we reckon we'll get there!

Less than 100 pairs have ever rowed across an ocean - around a third of all attempts failing to finish. We face hurricanes and tropical storm systems, shark attacks, dehydration, and the threat of tankers in the shipping lanes….. In fact, there have been more people in space, than have rowed an ocean.We'll be competing in The Woodvale Challenge – and expect to be head-to-head against 20 other vessels made up of individuals from different backgrounds around the world. Winning isn't everything – but rest assured we're in it to do well, and will be giving our best shot!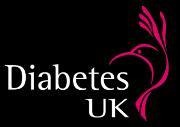 As an injecting diabetic, this is a charity close to Neil's heart. We're not aware of any diabetic who has undertaken an endurance event of this size before and the impact of diabetes is unknown. Please support our main charity by clicking the link SPONSOR US NOW It's worth noting that every penny sponsored goes straight to the charity - including gift aid too if you're a UK tax payer. Thank you for your support.

Please click on http://www.justgiving.com/2menpullingdiabetes and give generously to this charity.

Click here to read a message from Richard Lane OBE, the UKs first successful Islet Cell Transplantation patient, and Team Patron. Richard Lane OBE


If you tell someone else about The Challenge, and they tell someone else, who tells someone else ........ imagine how awareness and cash will be raised!

You are visitor number;